---
What you're about to see here is an extraordinary breakthrough in "green chemistry" and natural medicine. Pharmaceutical companies have spent millions of dollars researching biologically active nanoparticles that can be used to deliver drug payloads to specific tissues in the body.
Here, I show you how to make your own ionic silver / botanical nanoparticle medicine at home, for mere pennies. And I show you the electron microscope photos that prove the creation of the nanoparticles (see below).
What you are about to see here — and learn how to do yourself — very closely follows the silver nanoparticles (AgNPs) described in this breakthrough science paper: "Green-Synthesized Silver Nanoparticles and Their Potential for Antibacterial Applications," by Zdenka Bedlovi?ová and Aneta Salayová.
As this paper explains, silver nanoparticles are especially effective at killing microbes in the body, and can even be used to treat antibiotic-resistant strains. Via the abstract: (emphasis added)
The prevalence of infectious diseases is becoming a worldwide problem, and antimicrobial drugs have long been used for prophylactic and therapeutic purposes, but bacterial resistance has creating serious treatment problems. The development of antibiotic resistance makes scientists around the world to seek new drugs that would be more effective. The use and search for drugs obtained from plants and other natural products have increased in recent years. It is well known that silver and its compounds have strong antibacterial activity. Silver, compared to the other metals, shows higher toxicity to microorganisms, while it exhibits lower toxicity to mammalian cells. The progress in the field of nanotechnology has helped scientists to look for new ways in the development of antibacterial drugs. Silver nanoparticles (AgNPs) are interesting for their wide range of applications, e.g. in pharmaceutical sciences, which include treatment of skin diseases (e.g. acne and dermatitis) and other infectious diseases (e.g. post-surgical infections). Various antibacterial aids, such as antiseptic sprays, have also been developed from AgNPs. In this chapter, we have focused on various synthesis methodologies of AgNPs, antibacterial properties, and the mechanism of action.
Are you beginning to see how powerful this knowledge is? We're talking about making your own nanoparticle medicine that has widespread applications against drug-resistant antibiotics. The applications of this in the context of a civil war or societal collapse are enormous.
Importantly, I am going to show you how to make this yourself.
A simple method developed at CWC Labs
I developed this simple method by trying various experiments in my laboratory – CWClabs.com – and using our mass spec instruments (ICP-MS) and microscopes to confirm the creation of nanoparticles. I also found that you can do this yourself incredibly easily, with low-cost equipment.
I am giving this knowledge to humanity for free. All I ask is that when you share this knowledge, please credit me (Mike Adams, the Health Ranger) for the original publishing of this article and video that show people how to do this. If you wish, you can call this the "Adams method" for making AgNPs at home, using low-cost equipment.
This method uses rosemary herb as the basis for extraction, delivering rosmarinic acid which is well documented as an antioxidant, an anti-inflammatory molecule and a neuroprotective substance. The extract will typically also produce carnosic acid which has its own powerful medicinal properties. These two molecules, when used together, prevent free-radical oxidation of fats in food products, which is why they can be used as natural meat preservative molecules. But as you'll see here, the unique properties of these molecules also allow them to "absorb" oxidation states without losing their structural integrity, which has enormous implications for your health. (Keep reading…)
Rosmarinic acid molecule: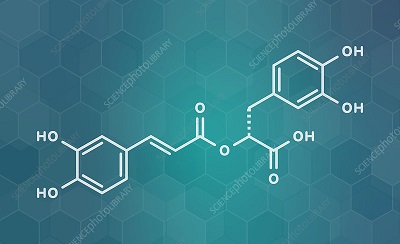 A microscope photo from CWC Labs showing the real-time formation of silver nanoparticles using a rosemary extract: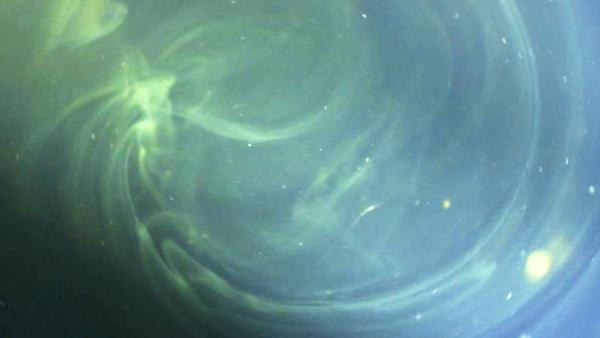 Overview of how to make AgNPs (silver nanoparticles) yourself, for pennies
Here's the overview of how to make AgNPs:
Step 1) Make or acquire ionic silver. You want ionic silver, not colloidal silver. Ionic silver is a clear liquid consisting of mostly positively charged silver ions. You can watch my video at this link which shows you how to make ionic silver out of US Mint silver coins. Note that many people use the terms "ionic" and "colloidal" interchangeably, but technically you want ionic silver, which is the smallest particle size (silver ions by themselves) and is created very early in the silver making process.
This video on Brighteon.com shows you the full process of how to make ionic or colloidal silver out of silver coins. You need to click the "Get Access" blue button on the bottom right corner of the video because email registration is required to view this free video.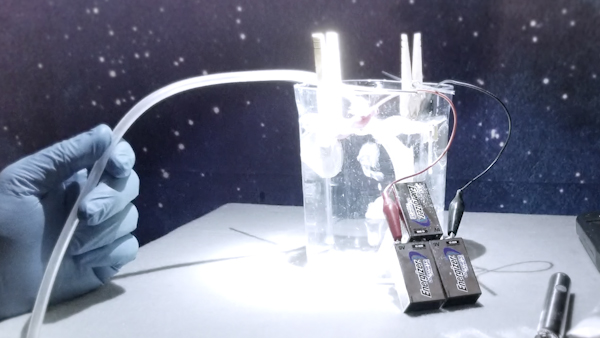 You can also purchase ionic silver products from any trusted supplier. Typically you want 10 ppm – 40 ppm ionic silver. The concentration is not that important, it turns out. Any ionic silver will work.
Step 2) Make an herbal extract (in water) using rosemary herb. This herb provides rosmarinic acid which is a very unique molecule that has unusual properties, allowing it to transmorph itself due to chemical reductions, enabling it to bind with positively charged silver ions without losing its own molecular structure. (That's a highly unusual property of molecules.)
The video on how to do this with an ultrasonic cleaning machine can be found at this page at PrepWithMike.com. Look for the video entitled, "How to RAPIDLY make emergency HERBAL medicine with an ultrasonic cleaner."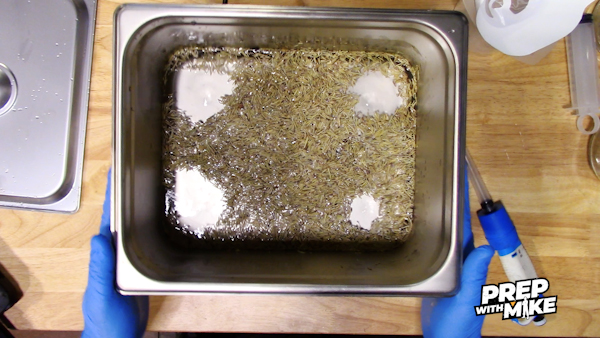 Step 3) Take roughly 10 mL of the rosemary extract and pour it into 1 L of the ionic silver liquid, then gently stir for a few minutes at room temperature (the ratios don't have to be precise). Over the next 20 minutes, AgNPs will automatically form due to the law of chemistry, and the color of your solution will strongly shift toward red. This is due to the rosmarinic acid forming AgNPs by chemically bonding with silver ions.
Watch the full video of how this is done at PrepWithMike.com.
Initial color-changing reaction as nanoparticles are forming: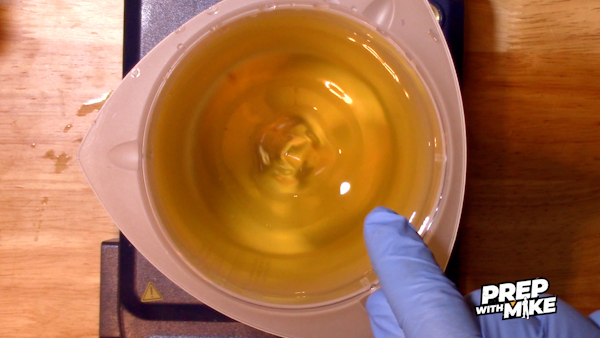 When done, you will have created a large quantity of AgNPs, consisting of formerly ionic silver that has bonded with rosmarinic acid, without changing the molecular structure of the rosmarinic acid.
This means your body will recognize these NPs as "food" because rosemary is a common herb. This allows the silver "payload" to be delivered to your body's cells, as it is captured inside the rosmarinic acid.
We hired an electron microscopy firm to document the size and shape of some of the nanoparticles which are formed. The "nm" designation is "nanometer," which is one billionth of a meter:
Inside each one of of these nanoparticles is a silver payload. As this payload is delivered to your body's cells, it functions as a powerful internal antibiotic and may have anti-cancer potential that deserves further research and study.
As a bonus, the rosmarinic extract tastes wonderful and is something like a "rosemary tea." So it's very pleasant to consume. On top of that, it has powerful antioxidant and anti-inflammatory properties, even without the silver.
As with all experimental medicines, be sure to check with your naturopathic physician before consuming herbs or silver, in order to best address your particular health issues.
As a disclaimer, this information is offered as-is, in good faith but without any promises of how rosmarinic acid silver nanoparticles might work for you. Personally, I'm making and drinking this AgNP "tea" myself, and using it to great effect. I do not sell this solution and do not manufacture it commercially. This information is for you to make it yourself.
Be sure to use organic rosemary, because you don't want to make a pesticide tea. Rosemary grown with pesticides will result in pesticides in your water extract. (This is true for all herbs.)
The next step in this process would be to dry the AgNPs into a powder, and encapsulate the powder to create a super-potent "pill" form of AgNPs. This is a multi-billion dollar idea and if any entrepreneurial company wants me to serve as a consultant on the manufacture of such an item, I'd be open to help.
There is a variety of botanical molecules that can be used as nanoparticles to deliver certain payloads to specific organs throughout the body. This "green chemistry" technology can be used to deliver payloads to the pancreas, liver, heart, kidneys, brain, muscles and other tissues. You simply have to know the chemistry of the botanical molecules and how they interact with receptor sites throughout the body. Payloads don't have to be limited to silver, either: They can include drugs, obviously, or other botanical molecules that have potent anti-cancer properties.
Note carefully that you can grow rosemary herb at home, which means the plant is synthesizing the molecules you need, for free. You can buy silver coins for just $25 each, and they will make thousands of gallons of ionic silver, so the cost per "dose" in all this is minuscule.
This AgNP solution using rosemary has applications for diabetes, Alzheimer's, cancer, heart disease and more, just based on the natural properties of rosemary and the silver element. More research is needed to fully document all the applications.
Follow more of my work at NaturalNews.com and PrepWithMike.com. I have more videos coming your way with lifesaving knowledge and how-to information.
Submit a correction >>